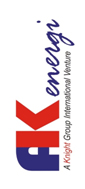 Following a complete takeover of PT AK Energi by Knight Group International, the Group has initiated a series of structural and strategic changes of PT AK Energi. These changes have been found necessary to boost operational and structural efficiencies, and assure improved and stricter Corporate Governance and Controlling mechanisms.
Effective July 1, 2013, PT AK Energi ceases its Coal Trading efforts, which will be taken up by Knight Group's Kuala Lumpur operations, under the Group Resources' newly formed Trade & Supply Department. This move averts negative effects of a series of restrictive regulations imposed by the Indonesian Government and improves the trade finance cost and structural efficiency considerably, while Kuala Lumpur provides a much improved infrastructure, more internationally compliant and skilled staff and working environment for the multinational mix of the divisions' management team.
AK Energi's business model will be changed to a mining assets holding company, with a portfolio of medium and larger mining concessions, in a mix of operating Joint Ventures, Acquired Concessions and Joint Operations. AK Energi's main focus will be to hold and develop the tenements for the Group. Therefore, its legal form will be changed to a Joint Stock Company (Tbk.) to enable an initial direct foreign holding of shares by Knight Group's Resources and Mining Holding in Malaysia with a further Capital injection of USD 10,000,000 via a private placement of the newly issued shares. In a second move, AK Energi will be filing for and carrying out an Initial Public Offering on the Jakarta Stock Exchange, to increase the direct foreign shareholding of the Group to 85%, and 15% floated on the Jakarta Stock Exchange, with the majority remaining with our partners in Indonesia.
The envisaged steps are accompanied with personnel changes.
Further announcements will follow within July 2013.
Contact: Knight Consulting Indonesia